(Prescript – 6 December 2016)
Do I look like a man you can trust?…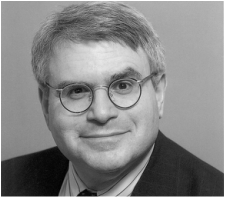 …Judge Paul Steven Diamond
A key step in enacting the disputed Electoral College scenario is getting a recall triggered in Pennsylvania. And wouldn't you know it, Jill Stein's federal lawsuit is being heard by Judge Paul S. Diamond, whose hometown is Brooklyn, NY (home to Chabad-Lubavitch's world headquarters). With a surname and hometown like those, I'm wondering if there's a connection.
Whether there is or not, Judge Diamond has scheduled a hearing for Friday afternoon. So if he grants Stein the recount then, the state would have only 4 days to complete it in order to meet the December 13 deadline. This would seem to be an unworkable time frame, so Diamond is basically holding Pennsylvania's electors in his hands. Let's see what he does with them.
P.P.S – Watch for Democrat-controlled precincts in all three states dragging their feet on the recounts to ensure the deadline is not met.
(Prescript – 6 December 2016) – Last night, news came out that a Michigan appeals court has ruled against Jill Stein's recount, but the recount continues under an order from a federal judge, Mark Goldsmith. Goldsmith has scheduled a hearing for 10:30 AM today to address a motion to end the recount on account of the state court's decision. If he orders the recount to continue, I'd expect Judge Diamond to issue an order on Friday for Pennsylvania's recount to begin.
On a side note, Judge Goldsmith and Judge Diamond received their commissions on June 22, 2010 and June 22, 2004 respectively.
NOW HERE IS THE ORIGINAL ARTICLE>>>
If Jill Stein succeeds in preventing Michigan, Wisconsin, and Pennsylvania's electors from attending the electoral college, Hillary Clinton will need to get only 15 Trump electors to change their votes in order to win the Presidency. Here's why…
In order to become President of the United States, one must receive an absolute majority (more than half) of votes in the Electoral College. Since there are currently 538 electoral slots in the College, if we divide that by two, we get 269 (which is exactly half). So to get an absolute majority, a presidential candidate needs one vote over that, which is 270.
But what happens if the 46 combined electors of Michigan, Wisconsin, and Pennsylvania don't show up?
The electoral college would meet with only 492 electors. And if we divide that by two, we get 246 (which is exactly half). So to get an absolute majority in this case, a presidential candidate needs one vote over that, which is 247. Since Hillary already has 232, she'd need only 15 more to win.
But why would Michigan, Wisconsin, and Pennsylvania's electors fail to show up?
Because the recounts and the court cases surrounding them might prevent those states from certifying their electors in time…



…From Archives.gov
As you can see, Michigan, Wisconsin, and Pennsylvania have only 10 days to wrap up the recounts and court challenges and certify their electors. If they don't, they might have no electors to send for the December 19 presidential vote.
And this is where the Clinton/Stein strategy reveals itself…
> Stein waited until the last possible moment to file for the recounts, thus assuring the recount efforts would have the minimum amount of time possible to complete them.
> Stein is further slowing down the recount efforts by insisting on hand counts and filing lawsuits.
So if the globalists opt to grant her success in her efforts, she will put Hillary within striking distance in the Electoral College, and that's where the Clinton Machine will kick in. They have likely already identified the weakest links among the Trump electors – those who have skeletons in their closets and are persuadable by death threats and bribes – and they need turn only 15 of them (just 3% of the total electors) to succeed in "stealing the election." But even then it wouldn't be over.
There is another bump along the way to becoming President…


…From Archives.gov
Should Stein and Clinton succeed in "stealing the electoral vote," there would be a hellstorm in Congress. But I won't go into that until we see how the vote goes.
All this being said, I consider it unlikely that the globalists will opt for this path, but I won't rule it out either. The war path to the NWO will not be closed until Trump takes office (for the reasons given in my previous entry).
Love always…
(P.S. – 5 December 2016) – Here is something I came across during this morning's infoscan…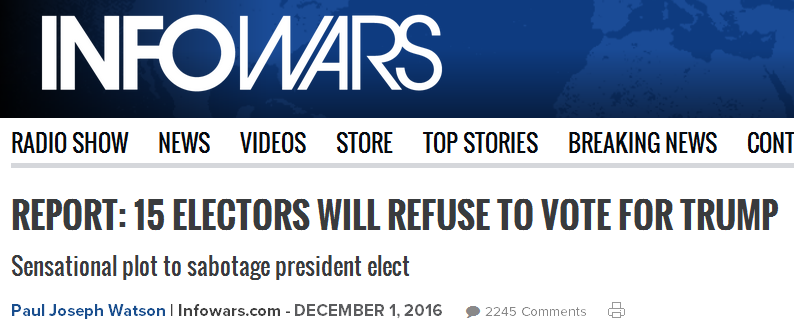 …From Infowars.com
So it appears that the 15 electors I talked about in this entry are already lined up.
(P.S – 5 December 2016) – THE PAUL RYAN SCENARIO
Whilst pondering the Stein/Clinton recount strategy, I realized that regardless of which way a disputed Electoral College vote might go, Paul Ryan would be placed in the Presidency on January 20. To see why, let's recall the reason for the December 13 deadline…



…From Archives.gov
So if Wisconsin, Michigan, and Pennsylvania's recount controversies are not settled before December 14, the validity of their electoral votes becomes legally questionable. This means that even if they send their electors to the vote on the 19th, motions to discount their votes can be made in both the courts and the Congress.
That being said, a missed December 13 deadline in all three recount states would give rise to two scenarios for a disputed Electoral College vote…
1) The three states' 46 electors are unable to attend the December 19 vote and 15 or more "faithless Trump electors" from other states switch their votes to Hillary, resulting in a Hillary win. The Republicans could then dispute the "disenfranchisement" of the three states' voters by the Democrats' sneaky legal maneuvers (done with plausible deniability through Stein), and if they win their challenge, Trump's victory will be restored.
2) The three states' 46 electors attend the December 19 vote despite the disputes and vote Trump. This would result in a Trump win despite the faithless electors. The Democrats could then dispute the votes of the 46 electors, and if they win their challenge, Hillary wins the Presidency.
Either way it turns out, who gets the Presidency would be decided by the courts and Congress. And this "weighty responsibility," along with the legal can of worms opened by the whole situation, could result in the final decision taking several weeks or months to reach. That raises an obvious question…
What happens if there are no clear Electoral winners to take the offices of the President and Vice-President when Obama's term expires on January 20?
The Presidency would temporarily fall in the lap of the Speaker of the House of Representatives, Paul Ryan. And given the fact that he just passed a House resolution calling on the President to study options for a no-fly zone over Syria, he'd likely implement such a policy and trigger a war with Russia.
By the way, regardless of any drama that might be coming, Trump will eventually be sworn in as President. It's what the globalist agenda calls for.
(P.S. – 4 December 2016) – There were some interesting election outcomes in Europe today, including the election of Alexander Van der Bellen in Austria…



…From NBC News/AP
Despite being critical of Russia in public, he has quite a connection to them behind the scenes…



…From Tass.com
His "noble" status may be why the globalists went against theme (their shift of Europe to the right) in (s)electing him.