The media have reported that American air defense units have arrived in Israel to participate in the Juniper Cobra 18 missile defense exercise…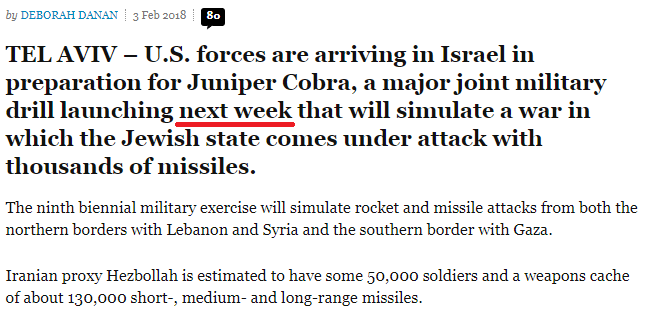 …from Breitbart
As I searched around trying to pin down the exact dates of the exercise, the reports were vague and seemed to imply that it was just a five day exercise that may have taken place during the first full week of this month. But as I continued looking for the exact dates, I ran across something unexpected: a scan of the US government's "approved FY18 Joint Exercise Report" on the Texas government's website. Have a look at the Juniper Cobra dates on the document…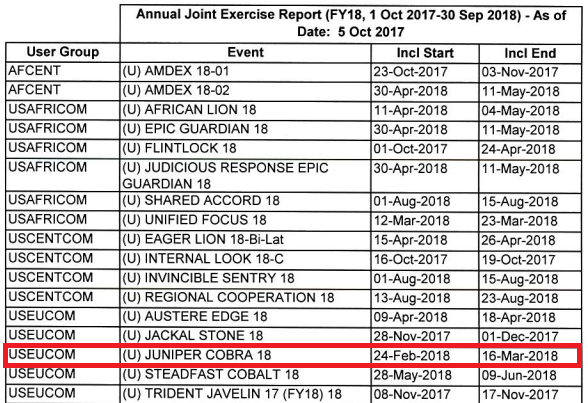 THE TIME PERIOD SHOWN, FEBRUARY 24 – MARCH 16, IS THE EXACT TIMEFRAME I'VE BEEN WARNING COULD BE THE START OF THE FULL-ON WAR IN SYRIA.
So was the exercise rescheduled? Was it shortened from 21 days to just 5? Both seem unlikely. What seems more likely is that the vague press reports were a smokescreen to obscure the fact that the US and Israel would be conducting a missile defense drill that will go live.
For more details on the ongoing war preparations, see Update 8 at the top of Globalist Agenda Watch 2018. I'll be adding information on the globalist war setup for southern Syria and Israel later today. Here's a preview…
The presence of American military personnel in Israel is a war trap. When many of them are killed in an Iranian missile attack (or a missile attack initiated by Mossad assets inside Lebanon and Palestinian areas), Trump will be "forced" into the war – or so the globalist narrative will say.